Autonomous LADARVision Laser System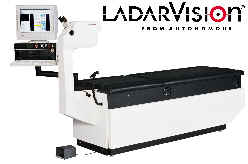 Overall Rating: A
Overview: Autonomous LADARVision is unquestionably one of the most sophisticated and precise laser systems available today. Accuracy and reproducibility of the Autonomous laser technology is unparalleled in the industry by virtue of the highly advanced laser radar tracking system incorporated into the laser platform. In fact, the Autonomous corporation, in the development of its laser system, drew heavily from technology developed by NASA for high-speed space docking as well as missile tracking technology generated by the Strategic Defense Initiative (Star WARS) specifically for Ballistic Missile Defense.
Eye Tracking Technology: Clinical studies with older laser platforms had clearly demonstrated that poor patient fixation during excimer laser surgery due to voluntary or involuntary eye movements could result in decentered treatments and suboptimal surgical results. Eye tracking technology eliminates surgical errors related to patient eye movement or movements of the patient's head related to rapid heart pulse rate or deep breathing. Applying Doppler and range imaging laser radar to this problem ultimately allowed Autonomous to become the industry leader in the arena of excimer laser technology that tracked the human eye in real time during a surgical procedure. No other laser system in the world compares in speed, safety and accuracy to the platform developed by the Autonomous research team.
Although other laser systems have developed eye-tracking systems, only Autonomous has a tracking system that measures eye movement 4,000 times each second and is capable of following patient eye movements regardless of how rapid or erratic they may be.
Advantages:
Advanced active laser radar eye tracker that electronically "freezes" the eye so that any voluntary or involuntary patient eye movements are precisely controlled.

Successful laser application does not rely on the patient's ability to hold his eye perfectly still.

Therefore the patient can relax and proceed with the laser procedure with the confidence and the assurance that the laser will respond to any and all eye or body movements.

Tracker technology virtually eliminates the possibility for debentured laser treatments caused by surgeon error or poor patient fixation.

Rigorously tested and approved by the US FDA providing patients with the assurance of product accuracy, safety and reliability.

One of the smoothest ablation profiles in the industry (see photograph). It is well understood by medical researchers that a rougher surface stimulates a more vigorous healing response by the body resulting in irregular healing, optical aberrations, poorer predictability and refractive inaccuracies.

As a result, there is a complete consensus of opinion in the medical community that "smoother is better".

Less aggressive wound healing resulting in more accurate and predictable results

Smallest laser spot size in the industry.

Smaller laser spot improves resolution of the laser treatment providing higher definition and superior optical clarity.

Small laser spot size allows for maximal tissue thermal relaxation between laser pulses resulting in less tissue damage and therefore superior outcomes.

Studies indicate that less tissue damage appears to contribute to enhanced long term healing and superior adhesion of the LASIK flap to the cornea.

Small spot size scanning beam platform allows for customized ablation profiles allowing the surgeon to treat the widest range of refractive errors and to properly re-contour even the most complex refractive errors or corneal irregularities.

Scanning beam allows for treatments of up to 10 mm in diameter – the largest optical zone in the industry thereby significantly reducing the risk for nighttime glare or halos.

Able to compensate for rotational eye movements during the laser procedure thereby assuring significantly more accurate correction of astigmatism.

Autonomous is the only laser system designed with this software feature.

The Autonomous eye tracker system is an ideal system for treating farsightedness and astigmatism because the laser treatment times for this type of refractive error requires longer treatment times.

During these longer treatments the Autonomous eye tracker accurately follows any eye movement that may be due to patient fatigue or poor fixation and provides assurance that each laser pulse is placed accurately.

The only laser system with "hinge" protection software capabilities reducing the chance for laser damage to the hinge area of the corneal flap during LASIK surgery.

Little if any concern for central "islands" or surface irregularities due to poor laser beam homogeneity, laser "plume" shadowing or corneal fluid migration problems that chronically plague broad beam laser technology.

Leads the industry in the ability to provide exquisitely accurate enhancement capabilities for all types of under or over corrections with or without astigmatism. This ability enables the surgeon to fine tune or "enhance" small amounts of residual refractive error providing the surgeon and the patient with more assurance that the final uncorrected vision will be similar to their pre-operative glasses or contact lenses.

Minimal acoustic shock wave damage compared to other laser systems resulting in a higher level of safety to the crystalline lens, retina, and other delicate eye structures located deeper in the eye.

"Intelligent" laser programming features virtually eliminate any risk for operator transcription or programming errors.

Custom ablations may allow for "super vision" by eliminating more complex optical aberrations from the eye thereby making the eye's optical system even better than "normal".

This potential is not possible with other less advanced laser systems.
Disadvantages:
More expensive than older less advanced or less precise laser systems

Requires a dilated pupil.
Compare lasers
Compare Laser Eye Surgery Systems
Many people are surprised to learn that all laser systems are not the same. They all use laser beams to reshape the cornea. But there are important differences in technology from one system to another. Because these differences could affect the laser eye surgery procedure, it's important to understand
why the technology matters
.
These charts show you some of the ways that laser systems differ from each other. Here, we list the features of the most commonly used systems in the U.S.
Table 1:


All laser systems must be approved by the Food and Drug Administration (FDA) to treat specific vision problems. The following chart outlines current laser approvals; however, it does not list the specific treatment ranges. This information can be found on the section of the FDA's site on LASIK surgery.


Table 2: Laser Systems and the Specific Vision Problems They Can Correct




For More Information...

The section of the FDA's site on LASIK surgery explains the indications for which all lasers are approved in the United States.

* Sunrise LTK System and Hyperion are trademarks of Sunrise Technologies International Co.
* LaserSight, LSX, LaserScan are registered trademarks of LaserSight Technologies Inc.
* Star is a trademark of VISX Inc.
* Technolas is a registered trademark of Bausch & Lomb Inc.
* Nidek is a registered trademark of Nidek Co., Ltd. Corp.
* VISX is a registered trademark of VISX, Inc.


Link to Autonomous Web Site – www.autonomous.com