ESIRIS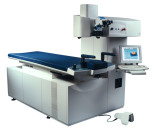 Overall Rating: ?
ESIRIS Scanning Spot Excimer Laser
The ESIRIS Excimer Laser represents the latest and most innovative technology presently on the market which offers revolutionary customized treatment possibilities in refractive surgery such as the correction of aberrations up to a theoretical visual acuity of 20/6.
Only a high-precision laser like ESIRIS has the advantage to translate the most modern analyzing technology into perfect results.
First clinical studies show excellent results with regard to the optimal correction of the eye and the quality of the surface.
ESIRIS offers you the following benefits:
Optimal surface quality by
High pulse frequency - 200 Hz Scanning Spot
This scanning spot laser ensures that energy is dispersed extremely evenly during the ablation process. The even surface alone already brings good results with regard to a better visual acuity.
1 mm spot diameter
A small spot diameter ensures a regular ablation profile without big gaps between the individual shots.
Optimized Gaussian beam profile
The Gaussian beam profile allows for smooth surfaces (no grooves and ridges) when treatments in critical overlapping zones are made.

Optimal Centering by
300 Hz High Speed Eye Tracker (patent pending)
The 300 Hz active eye tracking system is uniquely designed not only to follow the laser beam but every single saccade of the eye. It allows for easy centering onto the desired ablation area, not only onto the center of the pupil itself.

Optimal security by
sophisticated integrated safety features
An integrated measuring device continuously controls the level of energy of the laser beam. If energy drops, it immediately brings back the energy to the requested level. This way, optimal security is given during treatment for both - the patient and the surgeon.

Optimal ergonomic design by
adjustable patient bed
easy patient access, with a conveniently located joystick for adjusting the patient bed - comfort for patient and surgeon.
integrated control panel and the adjustable TFT-monitor
for ergonomic handling and better vision for the surgeon during the treatment. This permits the evaluation, filing and graphic presentation of data.

Optimal handling comfort by
Optimal cost efficiency by
optimal clinical results
Due to the preciseness of the laser the desired result is faster achieved than with conventional methods.
faster treatment times
The high repetition rate of 200 Hz provides faster treatment times.

<![if !supportLineBreakNewLine]>
<![endif]>
Specifications:

Laser Type

Excimer Laser

Wavelength

193nm

Spot Diameter

1 mm Gaussian Profile

Repetition Rate

200 Hz

Beam Delivery

Scanning Spot System

Eye Tracker

Active High Speed Eye Tracking

Frequency

300 Hz

Dimensions

approx. 1.500 x 1.200 x 1.950 mm

Software

designed for Microsoft Windows


The specifications are subject to change without notice.