VISX Star S3 Laser System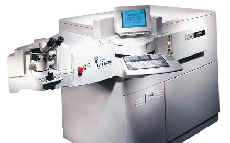 Overall Rating: B+
Overview: VISX is recognized as a world leader in excimer laser development. In 1998 VISX released their upgrade of the older VISX Star model calling it the VISX Star S2. The primary advantage to the S2 over the older Star model was the delivery of a significantly smoother laser ablation than the S2's predecessors. In keeping with their spirit of innovation and leadership in the industry, in recent months VISX has introduced a sophisticated infrared eye tracking system in the form of the newly released S3.
The tracking system is infrared video based and tracks the eye at a rate of 60Hz. Thus the eye position is verified and safety checked before every laser pulse and continues to monitor between pulses. This gives greater patient confidence and lowers apprehension.
Advantages:
The video based tracking system, tracks the eye in the X, Y, and Z axis.

The VISX eye tracker system is a great system for treating farsightedness and astigmatism because the laser treatment times for this type of refractive error requires longer treatment times.

During these longer treatments the VISX eye tracker accurately follows any eye movement that may be due to patient fatigue or poor fixation.

Produces a very smooth laser ablation profile.

The VISX S3 is approved by the FDA to treat a wide range of refractive errors including nearsightedness, farsightedness, and astigmatism.

Custom ablations may allow for "super vision" by eliminating more complex optical aberrations from the eye thereby making the eye's optical system even better than "normal".

This potential is not possible with other less advanced laser systems.

No dilation required.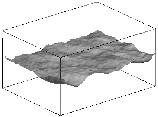 Disadvantages:
More prone to create unwanted side effects such as nighttime glare or halos due to limitation of a 6.0 to 6.5 mm optical zone. Although for many patients, the 6.5mm treatment area is completely adequate.

More difficult to compensate for rotational eye movements during the laser procedure which may decrease the lasers accuracy in treating astigmatism

No "hinge" protection software capability requires the surgeon to manually shield the hinge area of the flap during LASIK surgery

Heat generated at the corneal surface by a large laser beam appears to be greater than with small spot scanning laser technology. Although minor in effect, this heat may cause increased damage to the cellular structure of the cornea and slightly delay corneal healing.